Top Ten Toronto Landmarks Every Traveler Should See
If you want to learn about the top 10 Toronto landmarks, this article is for you.
Want to temporarily stay in a short term rental in Toronto? Moving to a new city, even for a short period, can be exciting. Lucky for you, as one of the major cities in Canada, Toronto has many beautiful attractions to offer you. Make the most of your stay in the city and visit these 10 top Toronto Landmarks. 
1- CN Tower
As one of the seven wonders of the modern world, CN Tower is definitely the most well-known Toronto landmark. You can see this enormous 553-meter high tower from any place in Toronto downtown. Completed in 1976, CN Tower is now part of the identity of every Torontonian. But this giant construction does not only serve as an urban symbol, but it offers many exciting activities as well. Here are some of them: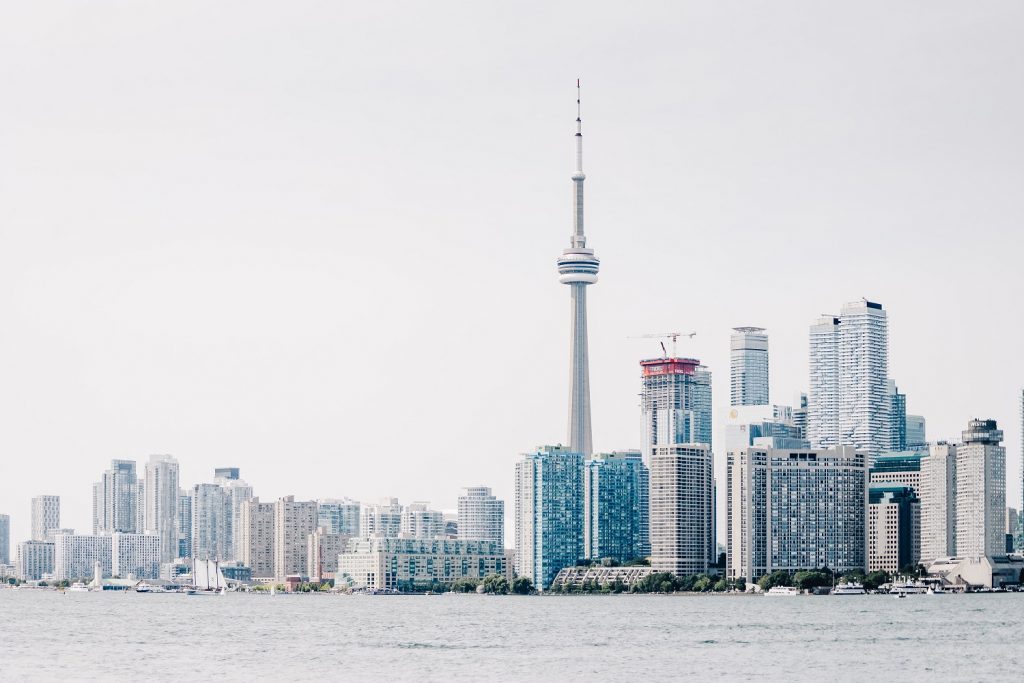 360 The Restaurant
Who doesn't want to have a nice dinner at a revolving restaurant, above all the skyscrapers of the city, while gazing at the twinkling lights of distance? Sounds dreamy, right? It takes almost 70 minutes for this 360 The Restaurant to make a complete turn, and then it stops for three hours.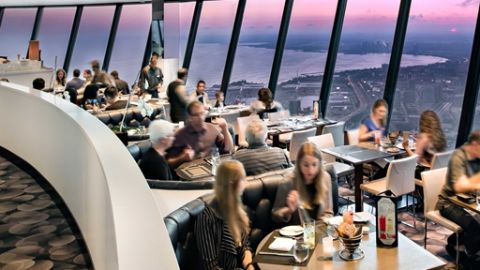 With a wide range of dishes and beverages for all tastes and types, this award-winning restaurant is hosting guests daily from 11:30 am – 2:30 pm and from 4:30 pm to 10:00 pm. Make sure you reserve your seat in advance.
Want to hear about the best part? Following your meal, you can access to the LookOut (breathtaking panoramic view of the Toronto) and Glass Floor (walking on glass panels at 342 meters) for free, if you purchase the prix fixe for each guest.
Edge Walk
This one takes a lot of courage to try! As the name indicates, this is a full circle hands-free walk on a ledge encircling the top of the Tower's central pod. Sound thrilling, right?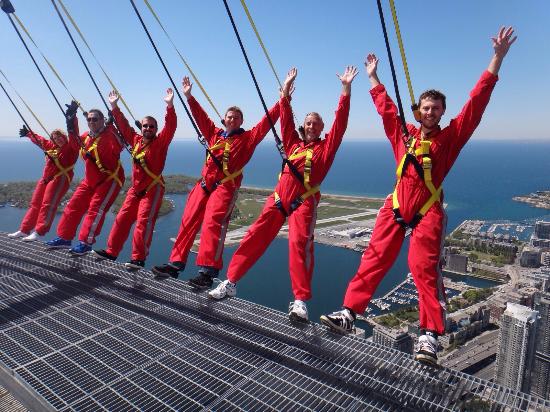 Where to Stay near CN Tower
CN Tower is located near Harbourfront in Downtown Toronto. If you want to stay in a beautiful place which also has a breathtaking view of CN Tower, you can try Stylish High Rise Studio with CN Tower View by Lake, which is located at 8 York Street, or Mind-blowing Lake View By CN Tower at 208 Queens Quay West.
2- Roger Center
This is one of the Toronto landmarks for those who in love with sports, and especially baseball! While you are staying in one of the waterfront condos Toronto, you can enjoy watching a great game at Roger Center, home to the Toronto Blue Jays of Major League Baseball. Also, if you're lucky enough, your favorite singer might have a live performance in this magnificent stadium.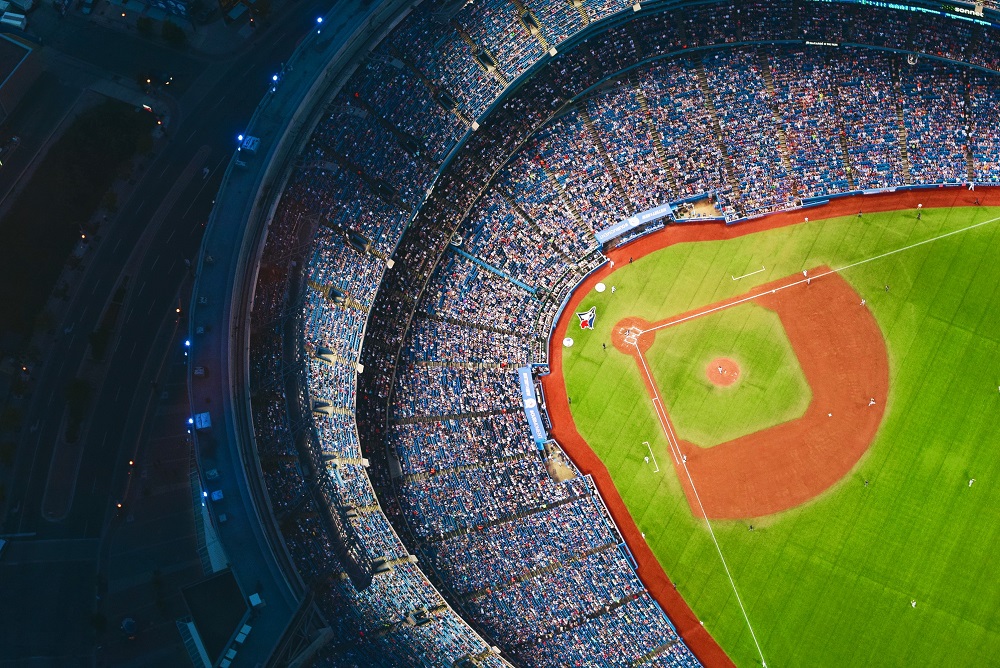 Where to Stay near Roger Center
If you wish to stay in a place near this Toronto Landmark, you can stay in one-bedroom apartment Modern Lakeview Apartment by Union Street in Toronto.
3- Eaton Center
The Toronto Eaton Center is a major and most attractive shopping center and office building in the downtown Toronto, Ontario, Canada which is located next to the residences of Temperance building and one of the best places for our Short Term Rental travelers. Cadillac Fairview (CF) owned and managed this complex. That's why since 2015, it is corporately styled as the CF Toronto Eaton Center.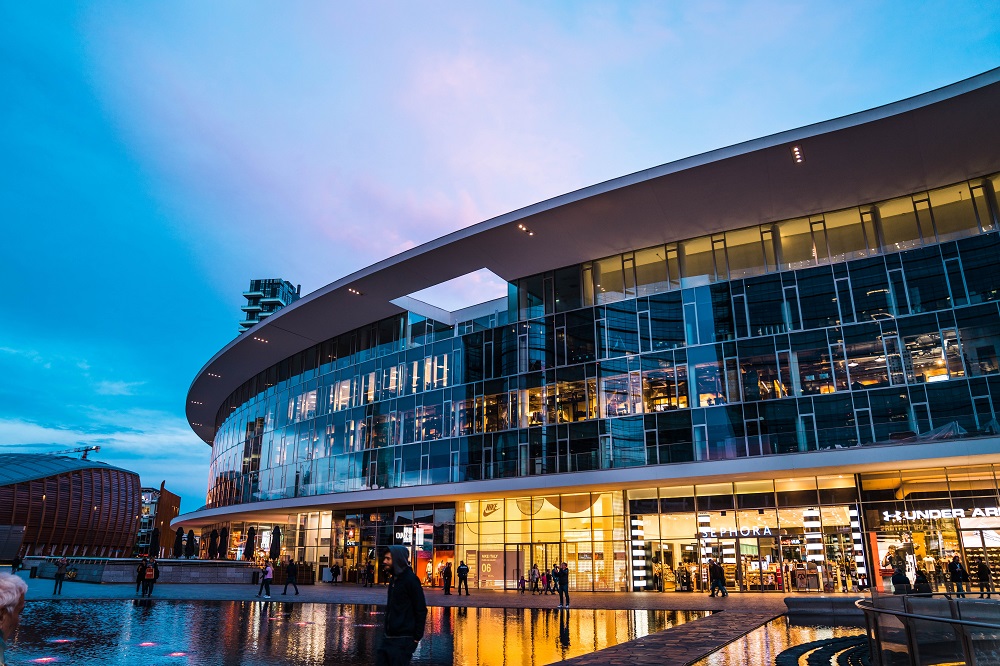 It was named after Eaton's chain of department stores that anchored it once before the chain collapsed in the late 1990s. The Toronto Eaton Center attracts the highest number of visitors to any of Toronto's tourist attractions. The Toronto Eaton Center is the busiest shopping mall in North America due to its extensive transit exposure, downtown proximity, and tourist congestion.
Where to Stay near Eaton Center
You can simply choose one of Tirbnb properties. If you are looking for a studio to stay near this center, check out Top Three Toronto Studio Apartments to Rent. Also, if you want a luxury stay, Find the Most Luxury Condos in Toronto Here.
4- Nathan Phillips Center
Located at the intersection of two of the most crowded and important streets in Toronto, Nathan Phillips Square is definitely one of the items on your MUST-see list in the city. Nathan Phillips was the Mayer of Toronto during the mid-50s and the early 60s. Viljo Revell and Richard Strong were the architectures of this city landmark.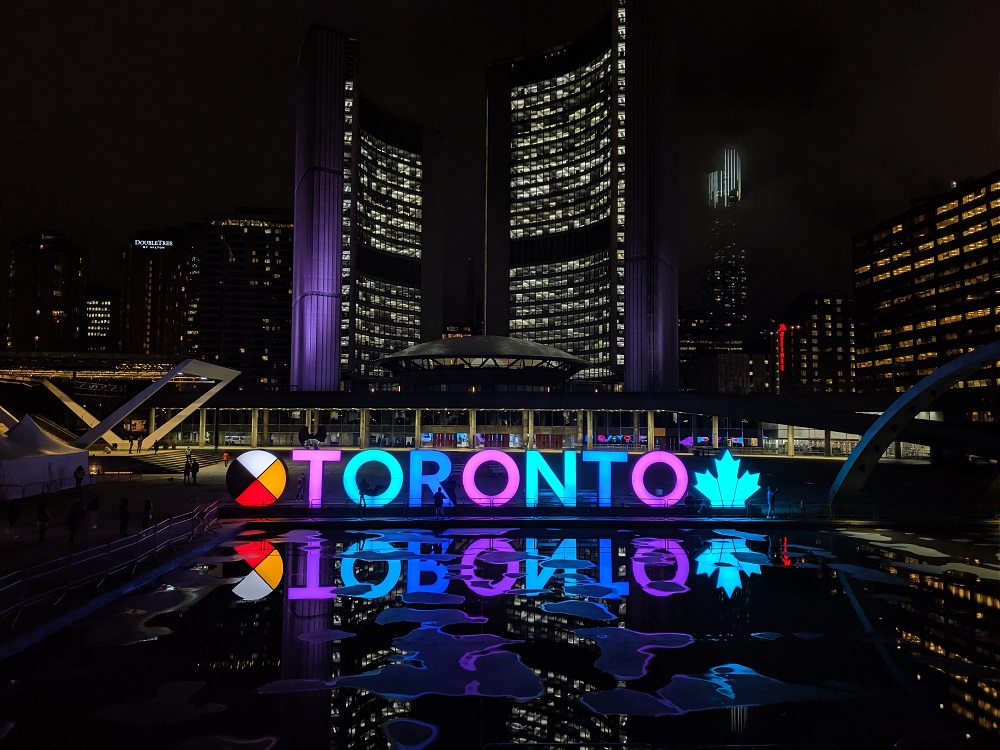 Due to its suitable location between Bay Street and Queen Street West, soon, this structure became a popular place for public events such as national celebrations and even demonstrations. It is good to mention that Nathan Phillips Square covers an area of around 5 hectares, which makes it the largest city square in Canada. Moreover, this symbolic square has about 1.5 million visitors annually.
Where to Stay near Nathan Phillips Square?
If you are interested in attending one of the Nathan Phillips Square Events, you better find a place in downtown Toronto to easily reach this landmark. Luckily, some of the Tirbnb's short term rentals are located in the vicinity of the square. Here is a list of the available properties which is located in Temperance Street.
5- Royal Ontario Museum
The Royal Ontario Museum is an art, world culture, and natural history museum in Toronto, Ontario, Canada. It is one of the vastest museums in North America and the largest one in Canada. More than one million people visit this great museum every year, which makes the ROM the most visited museum in Canada.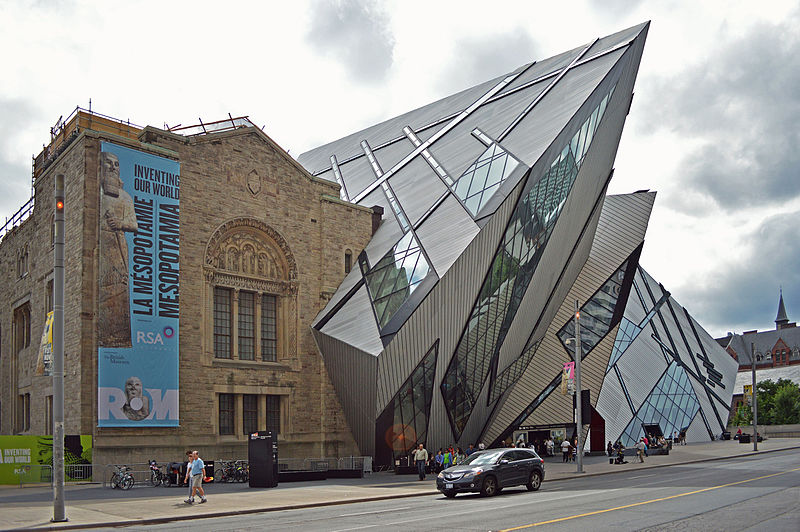 The museum is located north of Queen's Park, inside the University of Toronto district. From Bloor Street West, you can find the main entrance. The Museum subway station is named after the ROM and has been decorated to resemble the institution's collection since the renovation of 2008.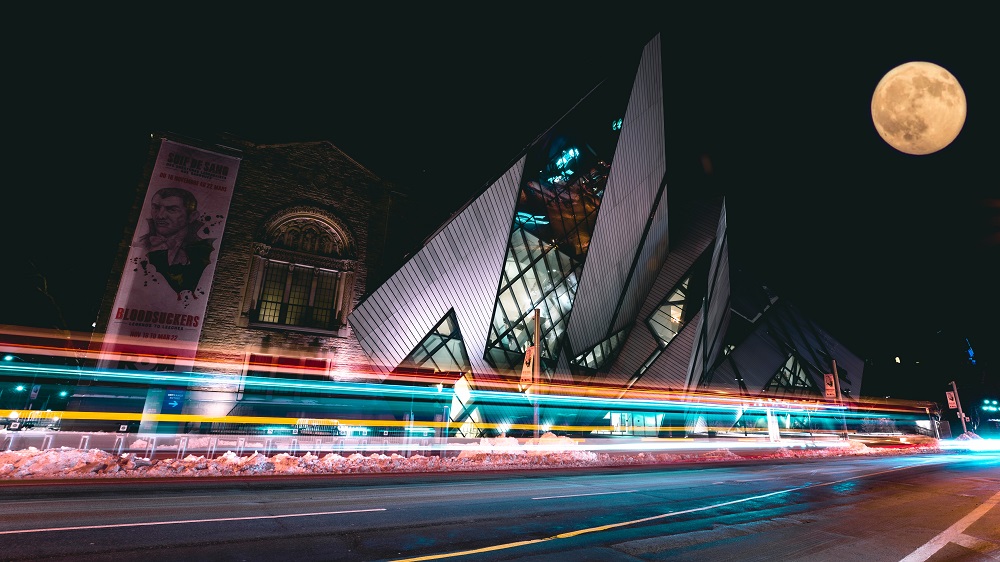 The museum's diverse collections of the world, including more than 6,000,000 objects and 40 galleries, is the cultural and natural history that contributed to its international reputation. The museum contains a collection of dinosaurs, minerals, and meteorites, Canadian and European historical artifacts, as well as African, Near East, and East Asian art.
6- Union Station
Union Station is a major railway station and center for intermodal transport in Toronto, Ontario, Canada. It is on Front Street West, on the south side of Bay Street and York Street in downtown Toronto. Union Station has been the National Historic Site of Canada and one of the main Toronto landmarks since 1975.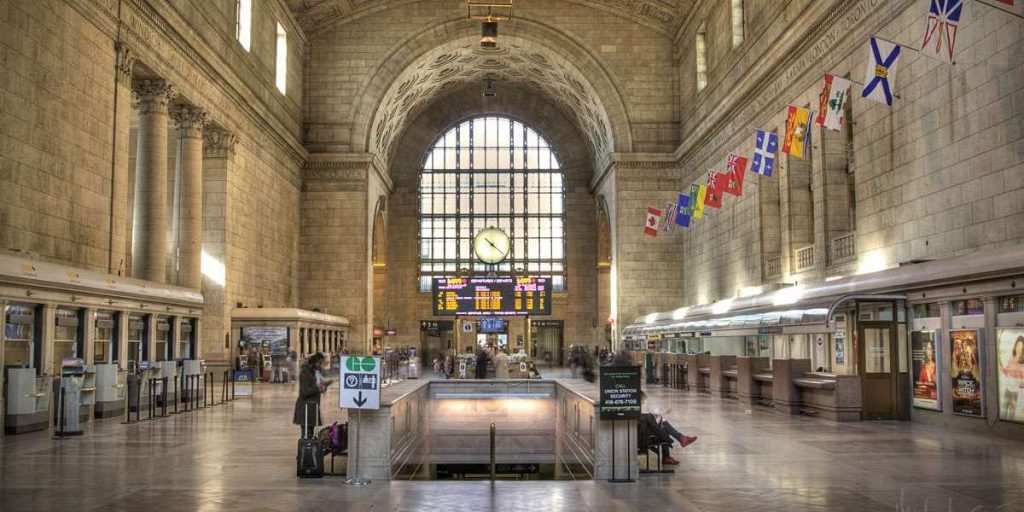 Where to Stay near Union Station
If you are planning to stay near Waterfront and especially Harbourfront neighborhood, it is better to take a look at Top Three Waterfront Condos in Toronto.
7- The Distillery District
The Distillery District is a residential and commercial district and one of the best Toronto landmarks. It is situated east of downtown and contains numerous cafes, restaurants, and shops built within the heritage buildings of the old Gooderham and Worts Distillery.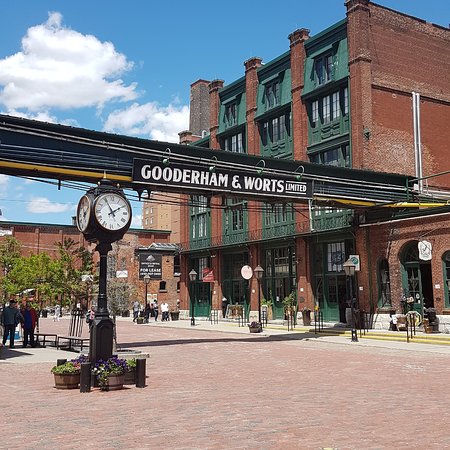 What you're going to find is a spectacular combination of old and new. An exciting mix of Modern Gothic architecture and beautiful 21st-century fashion and creativity. The consequence is an internationally acclaimed village with one-of-a-kind stores, shops, galleries, offices, bars, cafes, theatres, and more.
8- Casa Loma
Casa Loma (in Spanish means Hill House) is a Gothic Revival style castle and garden in the heart of midtown, now a historic house museum and Toronto landmark. It was designed between 1911 and 1914 as the home of Sir Henry Pellatt, a financier.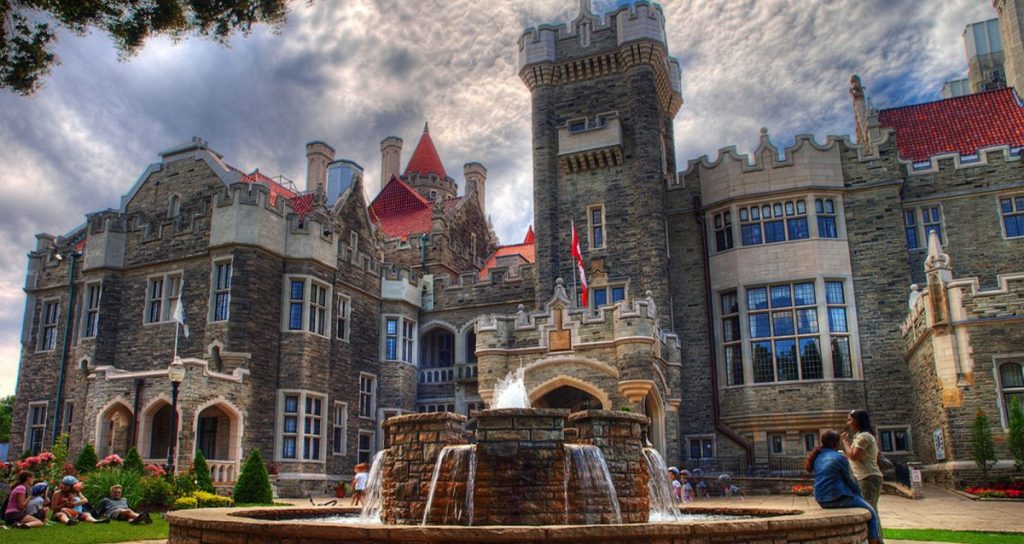 In 2016, Casa Loma was named by BizBash as the Best Location in North America. The corporate acquisition of the Liberty Entertainment Group started in 2014, and since then, there have been significant improvements to the treasured landmark.
9- Hockey Hall of Fame
The Hockey Hall of Fame is an ice hockey museum and considered one of the Toronto landmarks. It's a museum, and a hall of fame is dedicated to the history of ice hockey. The Hockey Hall of Fame was founded by James T. Sutherland, former President of (CAHA), the Canadian Amateur Hockey Association. If you love this fantastic sport, it's a good idea to take a look at this museum.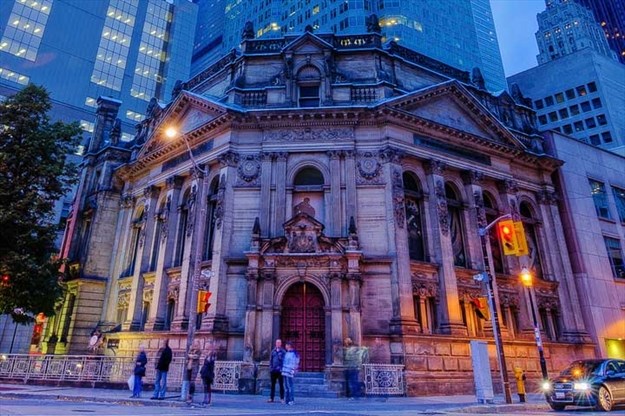 10- Art Gallery of Ontario (AGO)
The Art Gallery of Ontario is situated in the Grange Park area of Toronto, on Dundas Street West, between McCaul and Beverley Roads. The museum's large complex is home to 45,000 square meters of space, making it one of the largest art museums in North America.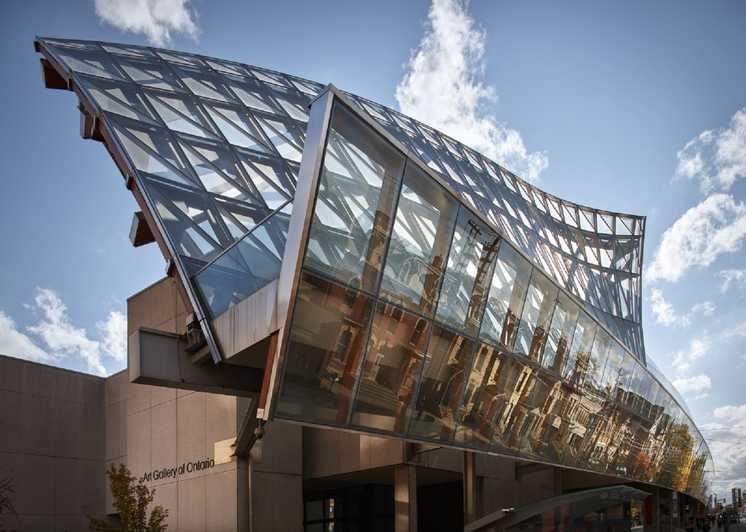 Its addition to display rooms, the museum now contains an artist-in-residence office and laboratory, dining facilities, assembly areas, gift shop, library and archives, a theatre and lecture hall, a research center, and a workshop.