Top Three Toronto Studio Apartments to Rent
Are you an individual looking for a studio apartment in Toronto? Then you are on the right page! Read this article to find about the top three Toronto studio apartments that you can rent while you are visiting Toronto.
What is a Studio Apartment?
The studio apartment refers to a single ample space with a kitchen and a bathroom. A studio apartment is basically a self-contained unit and houses everything in a separate room, except a bathroom. It is usually a large room, with different areas of the room used for a variety of purposes. For example, the corner of the room can be a living area, the corner can be a kitchen, and the space between the rooms can be a living room. In addition, the areas are generally covered by the use of partial walls or dividers.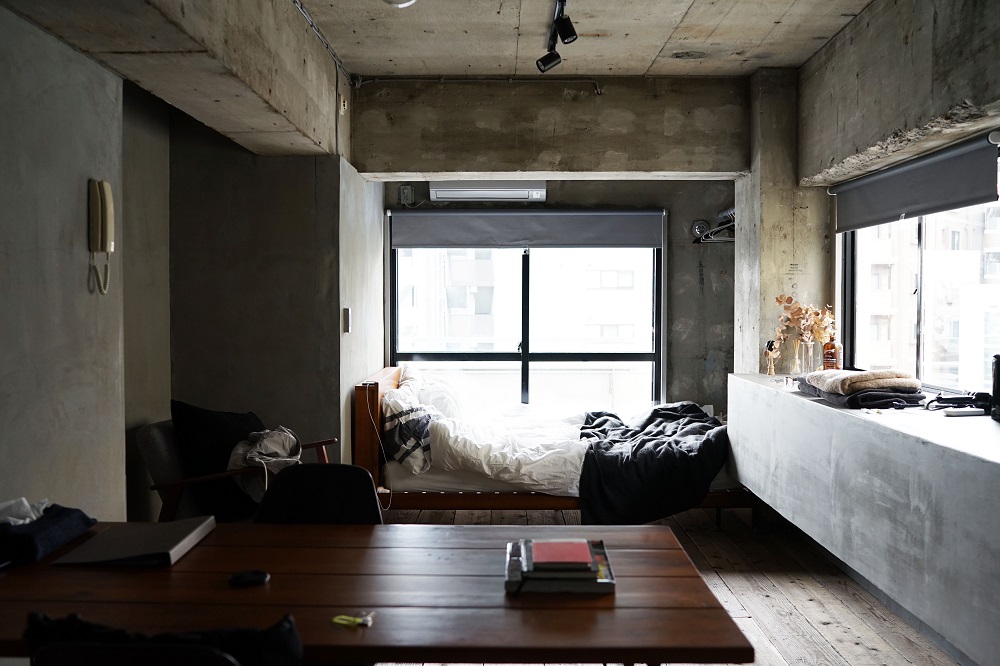 The distinction between a bedroom apartment and a studio apartment is that the one-bedroom apartment has separate spaces for the bedroom area, the living room area and the kitchen area. However, the studio apartment has a single large multipurpose room that serves as a bedroom, kitchen and living room. The only link between them is that they have a separate bathroom area. Apart from that, the one-bedroom apartment is different from the studio apartment in every way.
As a one-room apartment appears to be bigger than a studio apartment, it has a higher price tag or rental rate compared to a studio apartment. In comparison, the utility bills for the studio apartment are much smaller than the one-bedroom apartment.
Top Three Toronto Studio Apartments
1- Stylish High Rise Studio
This spacious studio apartment for rent in Toronto is located in the heart of the entertainment district. Also, the location makes it easy to access Bay St, the Air Canada Centre, the Rogers Arena and the CN Tower. The state-of-the-art facilities including a swimming pool, are available all year round. There is also a spa, a billiard room, and a sauna/steam room.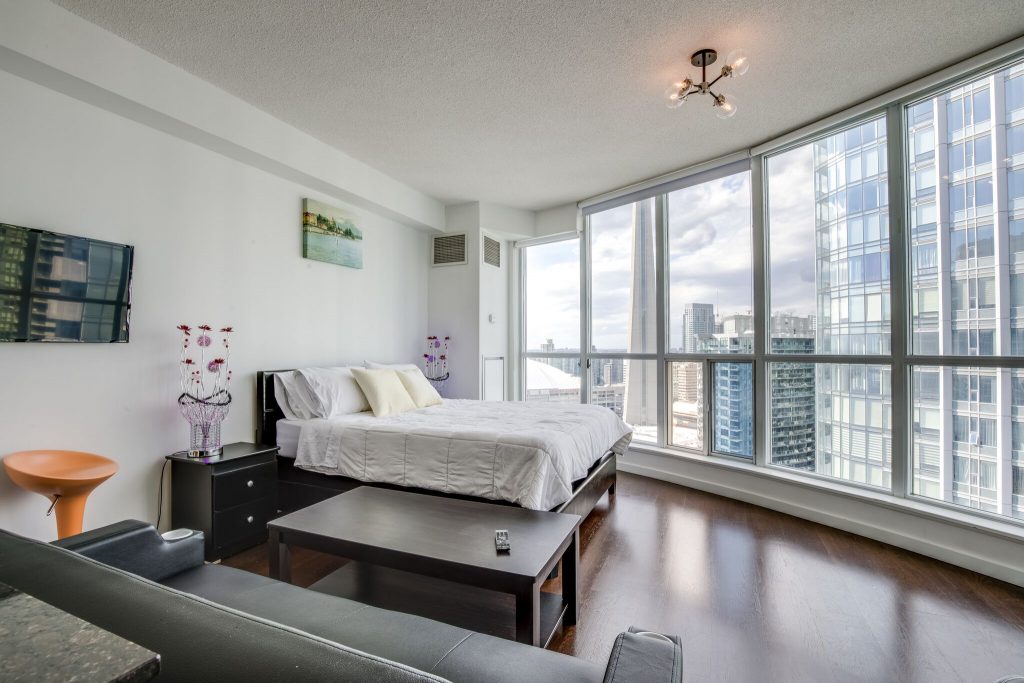 Related Articles: Top 5 Italian Restaurants Downtown Toronto
Moreover, it's a great location on the Harbourfront. It's just across the street, Union Station, and Westin Hotel. Also, a number of supermarkets, restaurants, bars, and coffee shops all within a minute's walking distance. The condo is super comfortable with a beautiful view and very quiet. The place is also just a few minutes away from the tunnel to Billy Bishop Airport on the islands.
Read More: Stylish High Rise Studio – CN Tower View by Lake
2- High Rise Studio Apartment Downtown Toronto
One of the best things about this place is that it gives you a wonderful view of the surroundings. Also, as you are on the 40th floor, you have a magnificent panoramic view of Toronto, with no other buildings blocking you. Don't forget to treat yourself to a hot cup of coffee or tea while enjoying the view from your cozy balcony.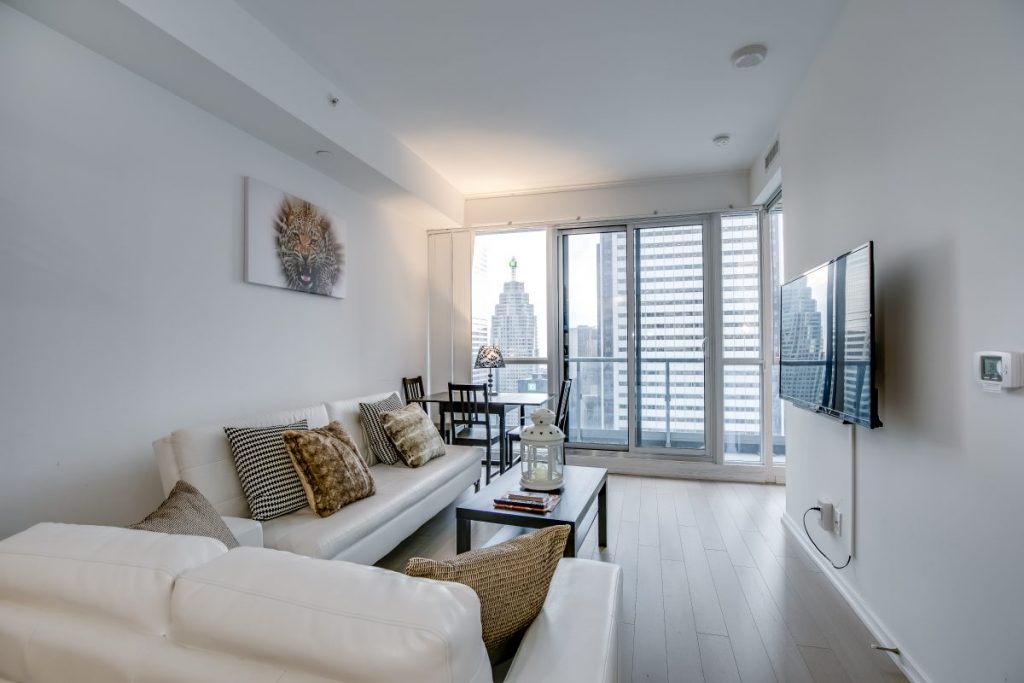 Although this is a busy city, this studio apartment is tranquil and quiet in downtown Toronto. Moreover, the sleek architecture and interior design of the apartment will delight your eyes. Also, this is your best replacement for Trump, Sheraton, Marriott, and Hilton Hotels due to its affordable prices. Would you like to know the best part? THE ENTIRE CONDO IS YOURS TO ENJOY WITH FULL PRIVACY.
Read More: High Rise Studio Apartment Downtown Toronto | Short Term Rentals
3- Studio Apartment Toronto
Toronto is one of the leading international hubs for business and finance. As a result, many marketing and business conferences and gatherings are held in this part of the country and especially in the city's business district. So, if you're going to stay in Toronto for work, the Tirbnb studio apartment is one of your best choices. Within a few moves, you can reach some of Toronto's leading business hubs, such as the Eaton Center.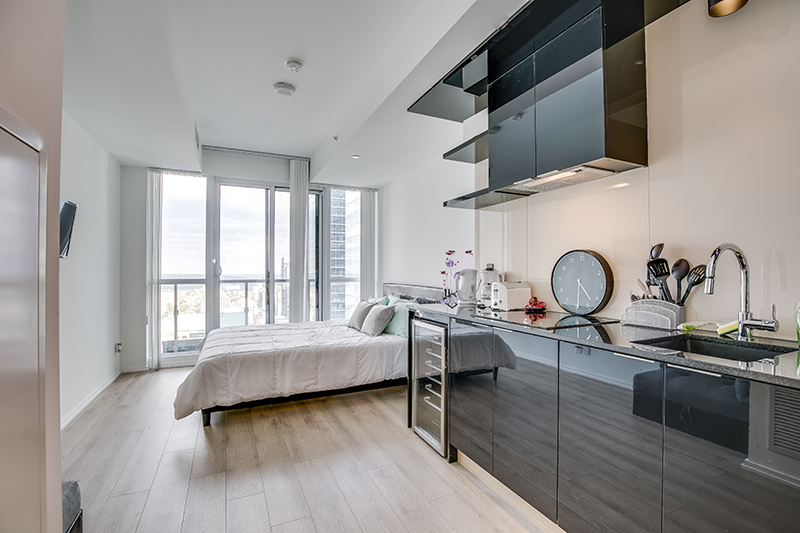 Moreover, the kitchen is equipped with brand new appliances, including a fridge, stove, and microwave. Also, the building is recently renovated. There is a large bathroom with a shower/bathtub. Also, we provide clean towels, and toiletries like shampoo and body wash for your convenience. You can also use a washer, dryer, and laundry which are inside the unit.
Conclusion on Toronto Studio Apartments
So, as you can see, these Toronto studio Apartments can be great choices if you are a solo traveler. So, what do you waiting for? Just rent your studio from Tirbnb and start your fantastic adventure in Toronto.