The Best Short Term Rentals in Toronto
Looking for short term rentals in Toronto? Then, read this!
Have you got a new job in downtown Toronto? Want to stay in Toronto for your holidays? Or maybe you have admitted for a short term course at the University of Toronto. Well, in any case, you will need short term rentals Toronto. In this article, we are going to introduce you to some of the best rentals in the city that can be your next home! So, stay tight and read about these properties on Tirbnb.
The good thing about these condos is that all of them are entirely furnished and you can find them in different parts of downtown. Also, as there is a wide range of apartments available, you will definitely find the right choice – from studio to spacious units.
1- Short Term Rentals Toronto: Financial District
As the business heart of Toronto, this district is one of the most bustling and also demanding areas in the city. Financial District is bounded by Queen Street West to the north, Yonge Street to the east, Front Street to the south, and University Avenue to the west.
You will find many banking companies, corporate headquarters, high-powered legal and accounting firms, insurance companies, and stockbrokers. It seems this part of the city is always bustling. But nothing to be worried about; you can find private and quiet places in the heart of this district. Here are Tirbnb short rentals in this part of Toronto.
Premium Apartment | Short Term Furnished Rentals Toronto
This one-bedroom apartment is perfect for those who want to be in the vicinity of the main square of the city, Nathan Phillips Square. This condo is located on the 50th floor of the building. Thus, you will have a beautiful view of the surrounding. Also, there is a convertible sofa in the living room that turns to a queen-sized bed. So, this apartment can host up to four guests. A large screen TV and other necessary facilities and amenities are provided.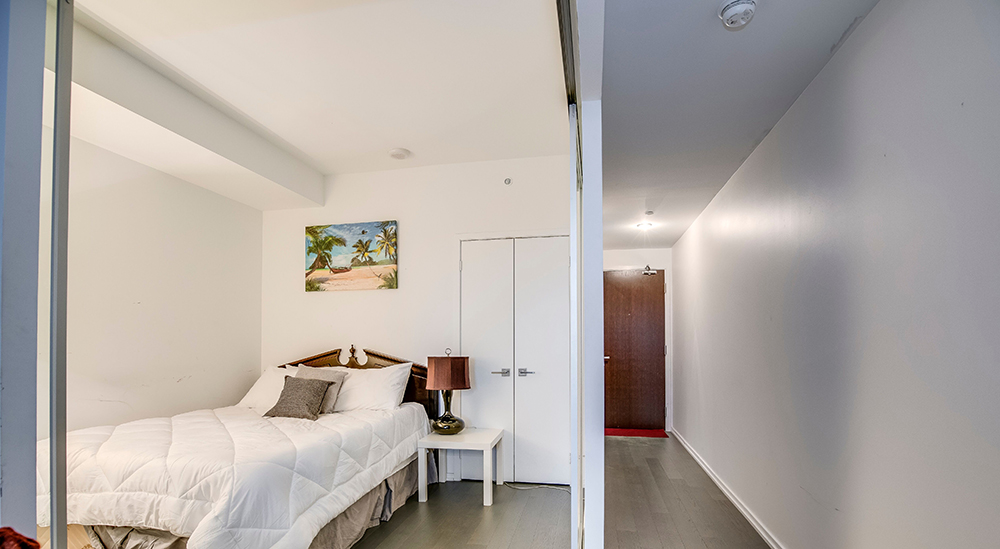 If you wish to learn more about this cozy condo and rent it, click here.
Luxury Condo in the Business District
This apartment is one of the luxury condos on Tirbnb in the Business district. With one spacious bedroom and the capacity of four guests, this condo is most suitable for those who travel to Toronto with the family. Staying in this place, you will have a lot of facilities and amenities o use. For example, an equipped kitchen is one of the best features of this apartment. You can quickly cook your own meal and enjoy the panoramic view of Toronto from this condo.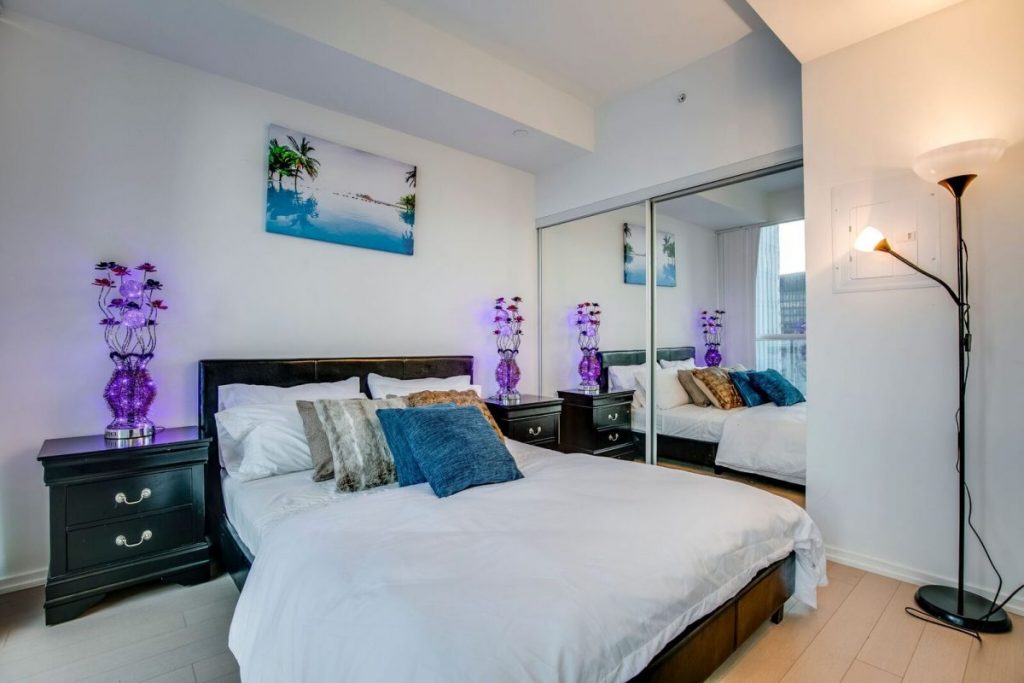 Finally, to learn more information about this property and see other facilities click here.
Skyscraper Core Biz District
The third option on our list is a stylish one-bedroom condo in the heart of the financial district. What is great about these short term rentals Toronto is that staying in this place, you can easily reach to Eaton Center. Also, this can be an unforgettable experience for those who are shopaholic! Being on the 51st floor and having a cozy balcony makes this condo a fantastic place for gazing at the skylines of Toronto.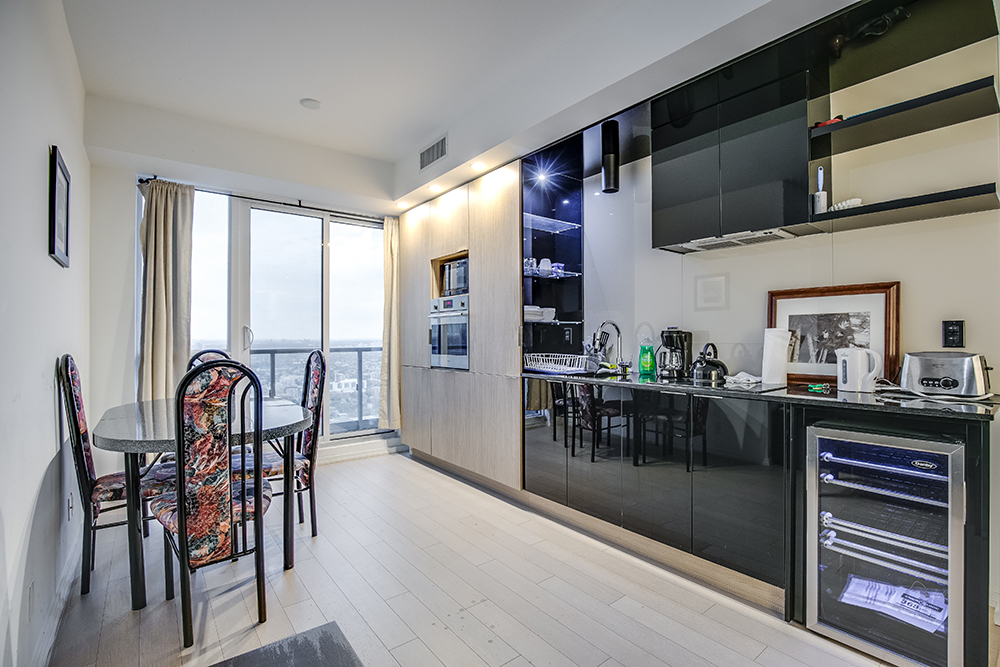 In addition, to gain more information about this place, see Skyscraper Core Biz District | Eaton Center Down Town Toronto.
Furnished Condos for Rent Toronto with Panoramic View
This furnished condo on the 52nd floor comes with one bedroom and all the necessary things to live. Although there is a kitchen with all the equipment, you can find some of the best restaurants in the financial district. Here are some of the things that you can find in this apartment: a stylish dining table, a coffee table, a comfortable convertible sofa, a cozy balcony, and high-speed Wi-Fi.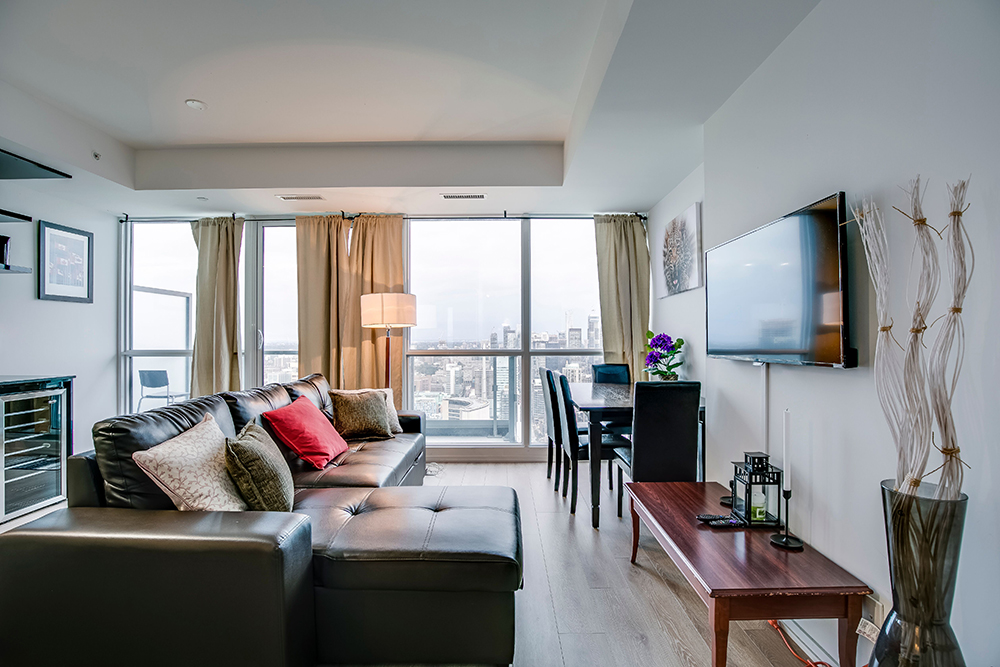 If you want to stay in this stylish and cozy condo and further info, see this article.
Studio Apartment Toronto | Furnished and Hotel Style
This one is perfect for those who come to Toronto individually. Although this is a condo studio, you will find plenty of spaces. As you might know, the only private place in the apartment is the bathroom. You can find fresh towels, toiletries, and showers in the bathroom. This studio is located on the 50th floor, so you will have a fantastic view of the city.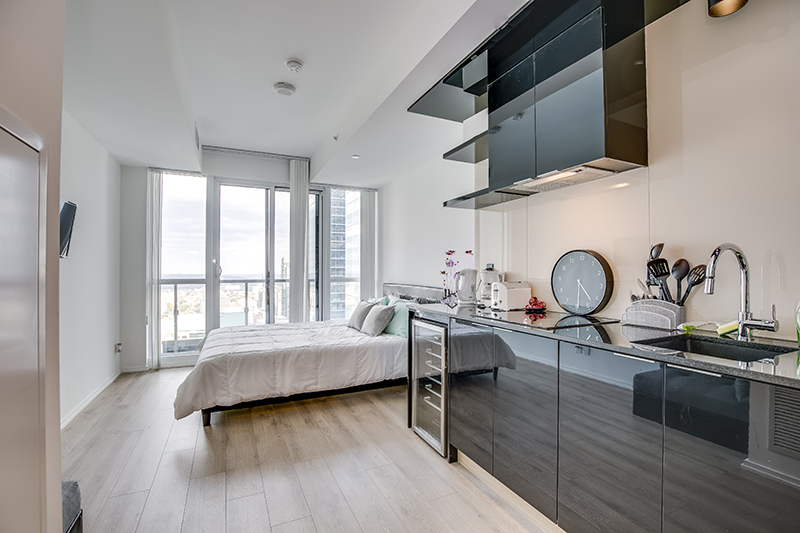 So, for more information about these rentals, click here.
High Rise Studio Apartment Downtown Toronto
This is another studio in the financial district. It is located on the 40th floor at 70 Temperance Street. With its full window walls, you can enjoy Toronto's smooth sunlight in your room. Also, a hair drier, a coffee maker, a toaster for the breakfast lovers, and 24-hour security are some of the amenities of this studio. Also, King and Queen metro stations are nearby.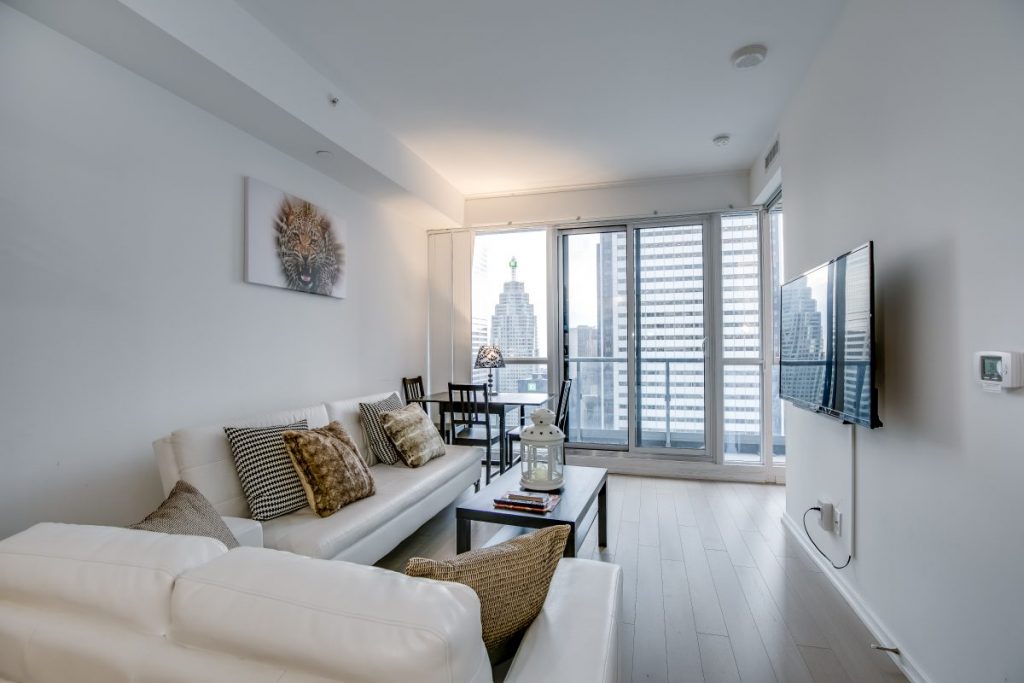 So, if you want to see more facilities of this property, check this article.
Penthouse in Core Biz District Toronto
Fancying about staying in a luxury penthouse on the 55th floor in the heart of the financial district? Well, this one is undoubtedly the right choice for you then. If you want to keep up with your workout routine, you can use the modern gym that is on the second floor. Also, there is a hairdryer and coffee maker for your use. Don't forget to visit CN Tower, which is in the building's vicinity.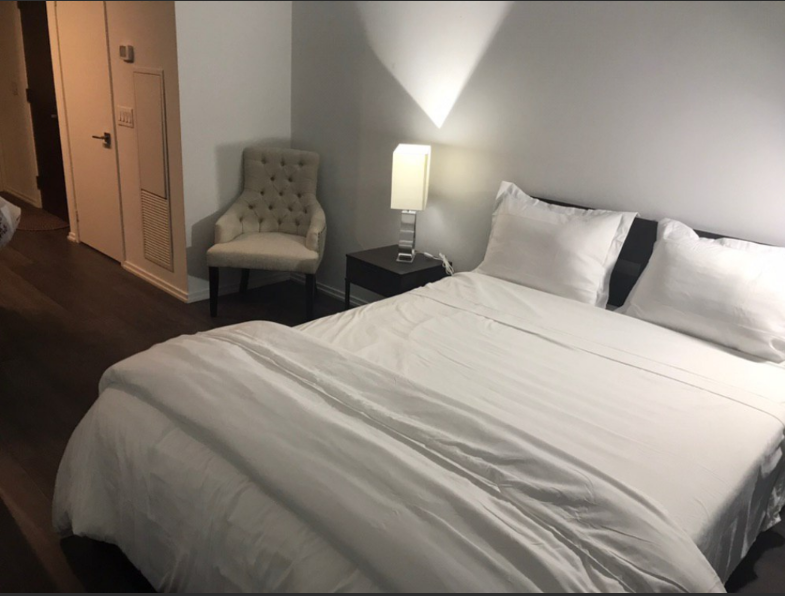 So, if you have this unit on your mind for staying in Toronto, read more about it.
2- Short Term Rentals Toronto: Entertainment District – City Place
The Toronto Entertainment District is located in downtown Toronto. It's concentrated around King Street West between University Avenue and Spadina Avenue. Also, some of the best theatres and performing arts can be found in this part of the town. Here are some of the Tirbnb properties in this beautiful part of the city.
A Gorgeous Penthouse in Down Town Toronto
Dreaming about a memorable holiday with your family in Toronto? How about a three-bedroom penthouse in the Entertainment District, City Place? Sounds great, right? This gorgeous apartment comes with many excellent features that make it unique. What's better than having a perfect view of Toronto Lake in all three rooms? Also, with one streetcar, you can reach Union Station (The center for the transit lines of Toronto and the surrounding areas).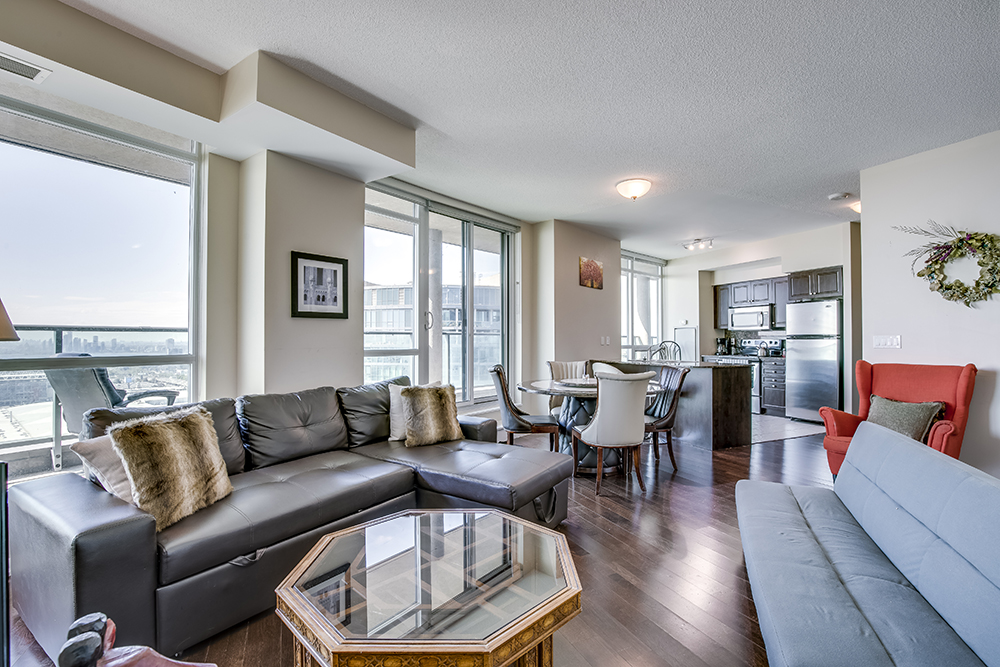 Moreover, as you are away from the bustle of the central city, staying in this luxury hotel-style condo will bring you a relaxing and calming moment. If you are interested in this place, rent this property through this link.
3- Short Term Rentals Toronto: Entertainment District – Core Downtown
Toronto Room Rental in Core Downtown
This particular luxury condo provides numerous facilities to its guests. It can host up to four people. Located on the 28th floor, this apartment enables you to enjoy the view of downtown Toronto. Also, the condo has one bedroom with a queen-sized bed. In the living room, there is a sofa which can be turned into a soft and comfortable bed.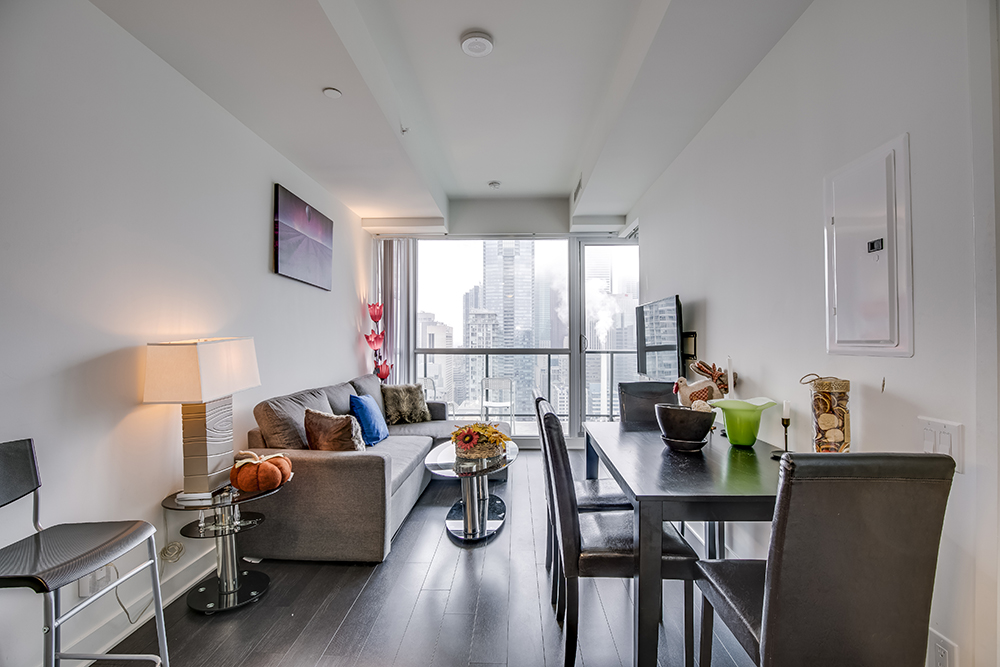 Moreover, the good news for sports lovers is that this condo is in the vicinity of some famous sportive attractions such as Rogers Center and BMO Stadium. If you want to know more about this property, see here.
Premium 1 Bed Room for Rent in Core Entertainment Downtown Toronto
Located in 290 Adelaide Street, this one-bedroom apartment is a perfect choice for those who want to stay in a hotel-style short term rentals Toronto. All guests will have access to the state-of-the-art fitness studio located on the 8th floor.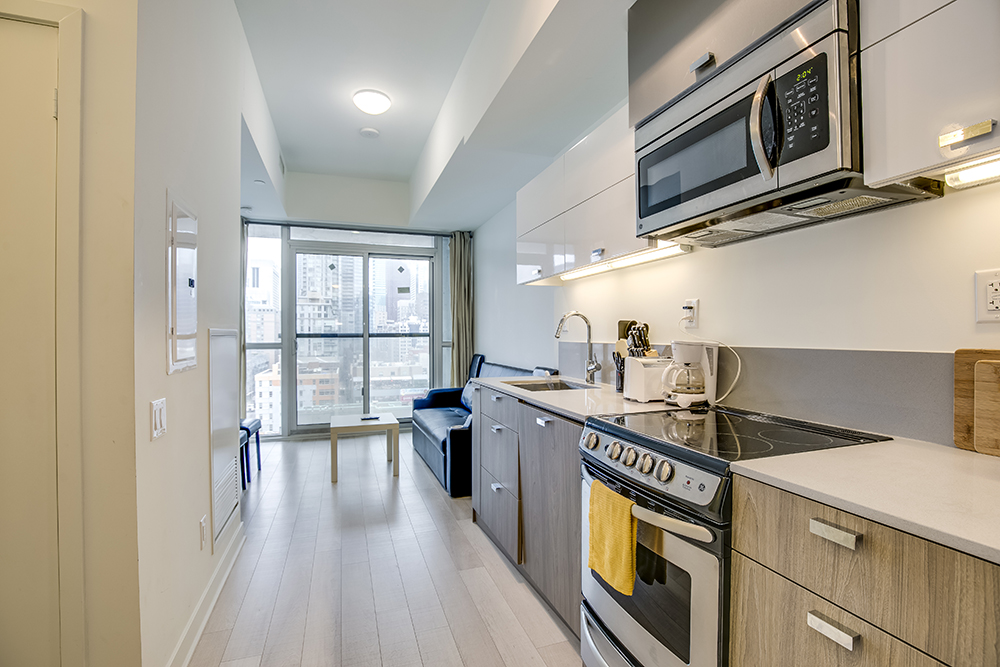 Moreover, here, you will find a gym, an indoor bike studio, a massage room, a steam room, and all other fitness equipment. During the summer, guests will have access to private cabins, an infinity pool, and an outdoor hot tub. So, if this apartment meets your needs, get more information on this page.
Brand New Condo in CORE Downtown Toronto | Short Term Rental
The unit is modern, spacious, and inviting. So, in this deluxe suite, you'll feel perfectly at home. There is 1 bedroom with a queen-size bed. In addition, the living room has a comfortable sofa bed that turns into a queen-size bed. Also, there are a large SMART TV screen and a state-of-the-art dining table and other furniture in the living room. So, found this place interesting? Click here.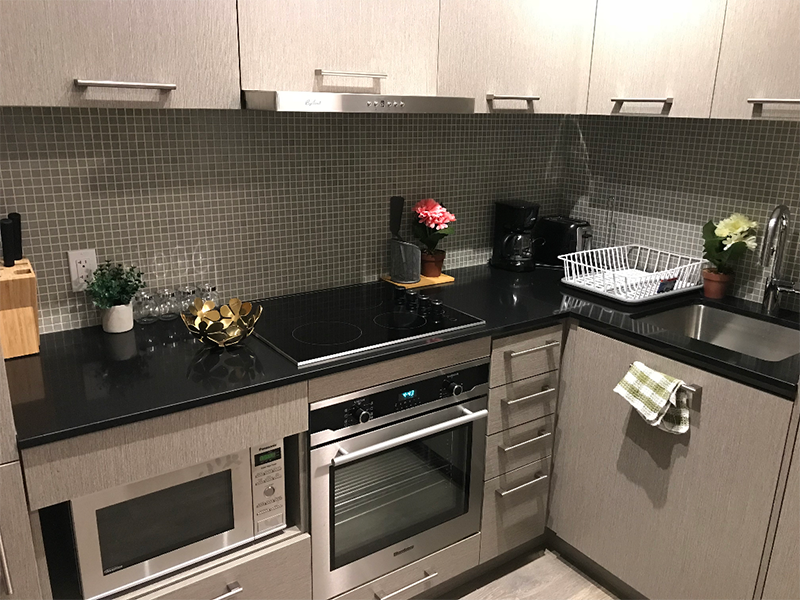 In HEART of Business Distinct Down Town Toronto
In your large bathroom, you can take a relaxing shower. For your convenience, we will provide you with clean towels, a shampoo and a body wash. There is also a washer, dryer, and laundry inside the unit to be used. Don't forget to share your experiences with your friends through high-speed Wi-Fi. Unfortunately, there is no parking space available for the flat in the building.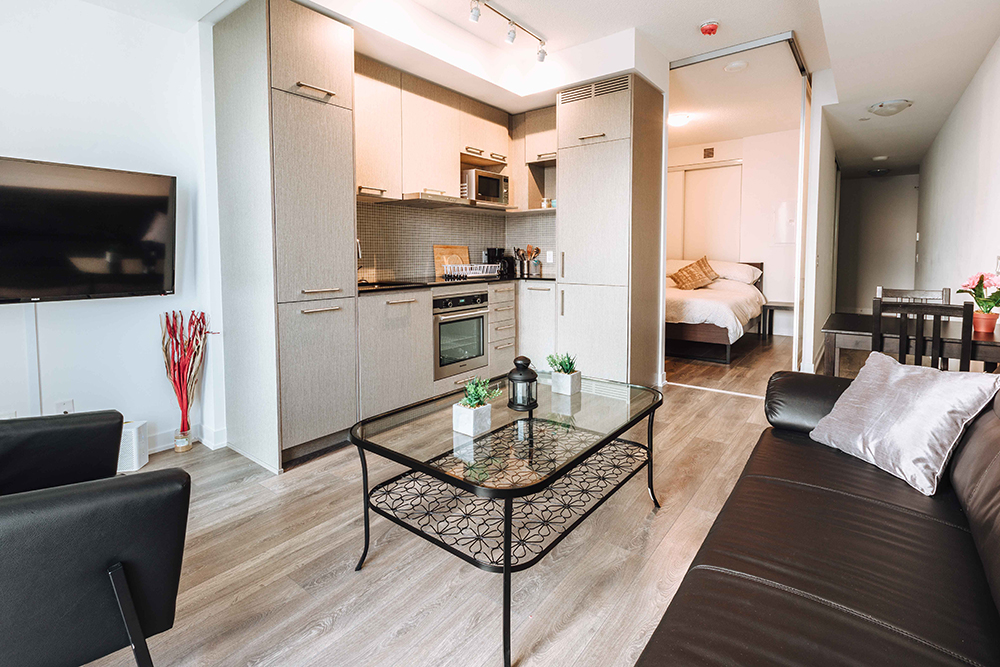 Click here for more information about this one-bedroom apartment.
4- Short Term Rentals Toronto: Entertainment District – Harbourfront
Toronto's downtown Harborfront neighborhood along the shore of Lake Ontario is roughly bounded by Yonge Street to the east, Spadina Avenue to the west, and Gardiner Expressway to the north. While Toronto's cold weather keeps things quiet in the winter, Harbourfront thrives with people enjoying its outdoor spaces all summer long.
Stylish High Rise Studio – CN Tower View by Lake
It's at a great location in the Harbourfront. It's right across the lake, Union Station, and Westin Hotel. A variety of shops, restaurants, bars and coffee shops all within a minute's walking distance. Also, the condo is super comfortable with a wonderful view and very quiet. The location is also just a few minutes away from the tunnel to Billy Bishop Airport on the islands. Would you like to take a cruise to the island?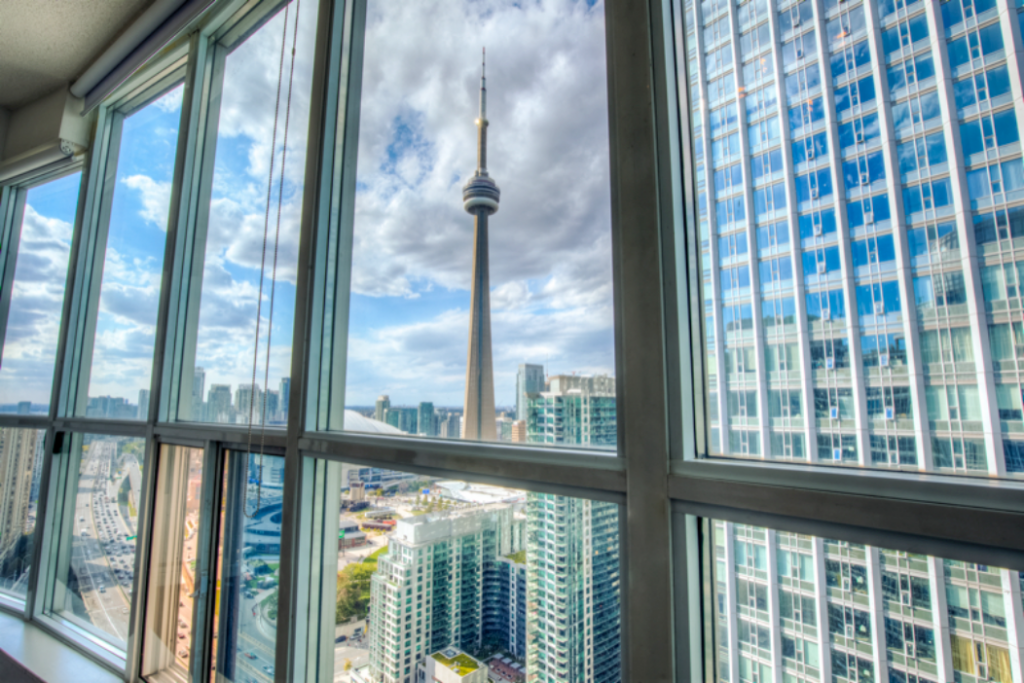 Moreover, just take a walk across the street. Are you looking for a restaurant where you can have a bite or relax with your date? Just walk out of the building to the shore of the lake and see all sorts of restaurants, from fast food to fine dining, while watching the beautiful lake.
Want to rent this place? Check this page out.
Modern Lakeview Apartment by Union Street in Toronto
Just walk a few steps to the east from the entrance to the building, and now you're on the Underground PATH, which takes you to Dundas Square and Eaton Centre, among a thousand shops and restaurants all underground to downtown Toronto.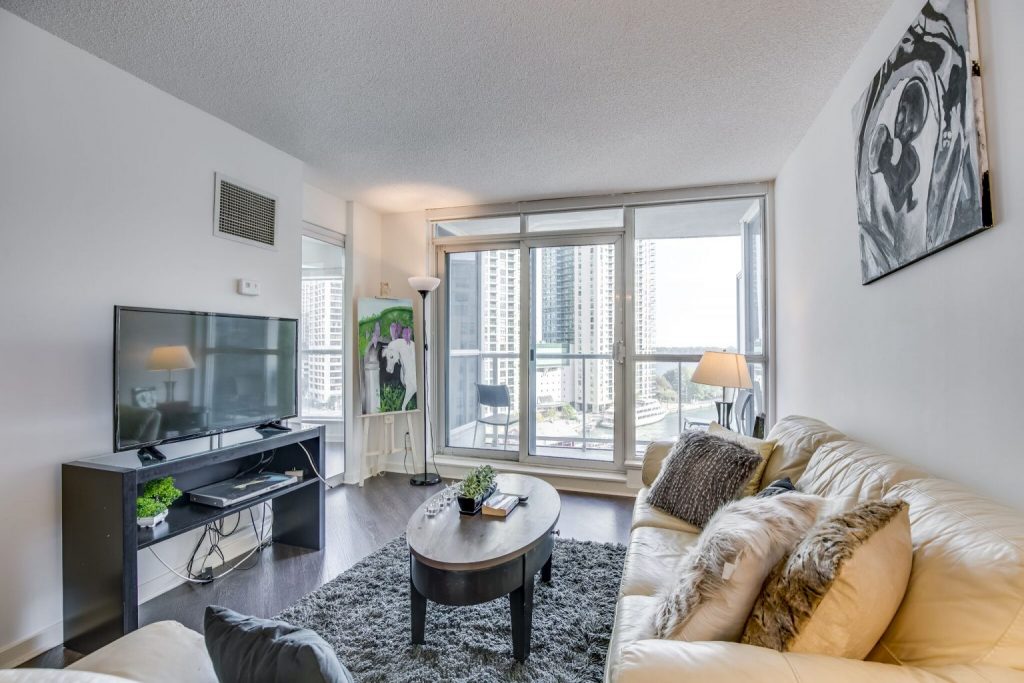 Paid parking is next door, and I'll be able to rent a parking spot in the building for sure if you let me know a day before your arrival. There is 1 bedroom with a queen-size bed. The living room has a comfortable sofa for a single person. Also, look here for more information.
Mind-Blowing Lake View by CN Tower
A massive Starbucks located right underneath the building. This is a spacious apartment with a queen-size bed. The living room has a comfortable sofa for a single person. The place is also a hop jump and a jump away from PATH (the underground city of shops, bazaars, and food), Union Station (the center of the Toronto and surrounding transit lines), TTC Street Cars, and much more.
Also, Billy Airport is easy to access. If you are interested, you can rent this property on 208 Queens Quay West, see this link.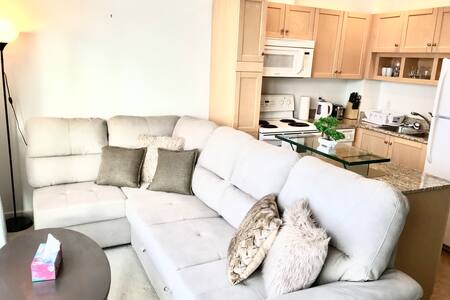 5- Short Term Rentals Toronto: Yorkville Avenue
Yorkville is one of the best neighborhoods in Toronto. It is almost bounded within Yonge Street to the east, Bloor Street to the south, Davenport Road to the north, and Avenue Road to the west, and is officially considered part of the "Annex." Also, Yorkville is diverse, including residential areas, office space, and a variety of shopping options. Let's see one of the short term rentals in this part of Toronto.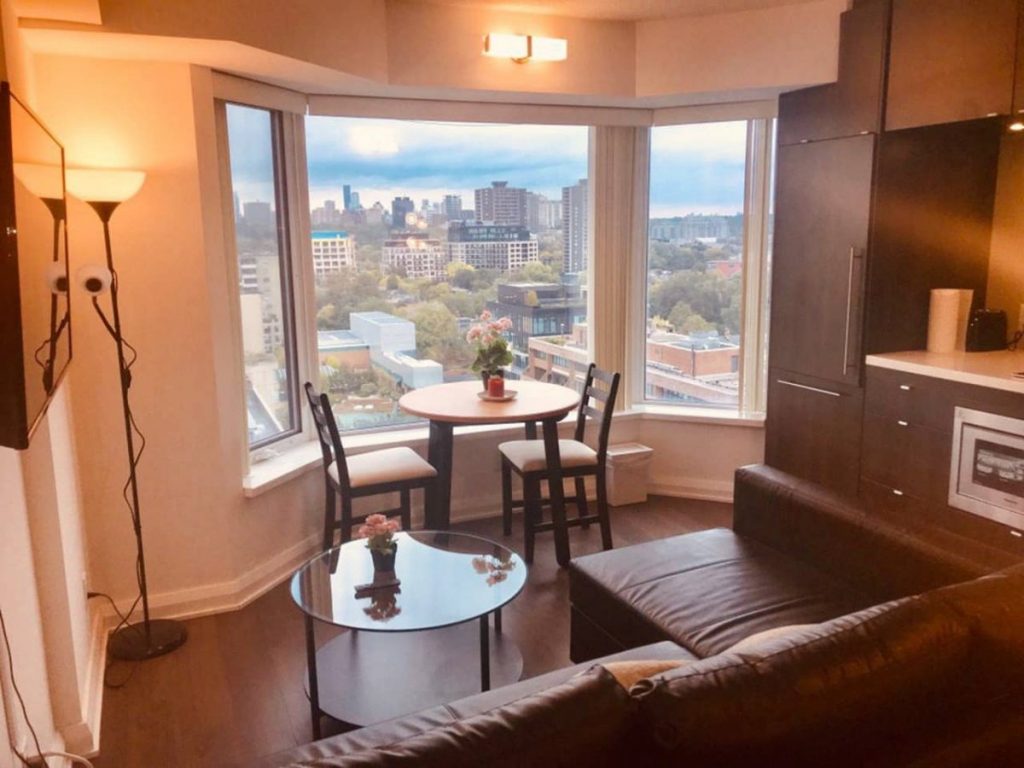 Spacious Luxury Apartment in Downtown Yorkville
The last item on our list of short term rentals in Toronto is a luxurious one. This 2 bedrooms stylish condo offers comfort along with the most upscale shops, restaurants, museums, attractions, all within walking distance. Public transport is also nearby. You can get to the subway easily. You're never going to get bored in this building. Also, after an adventurous day, you can keep up with your daily work in the gym, watch a movie, or get to your comfortable bed.
Also, find some of the best sushi in Toronto in your vicinity. Check this out if you look for more information.