Penthouse Rental Toronto 2023: Discover 6 Hidden Gems in Downtown Toronto
Are you looking for a stunning Penthouse in downtown Toronto? Here you can find some of the best options available to choose from.
Toronto is known for its world-class real estate, and the city is offering some of the most impressive penthouses in its history. These top six luxury downtown penthouses in Toronto's downtown core are the epitome of luxury living.
From stunning views of the skyline to expansive living spaces, these penthouses offer the best of the best in terms of comfort, style, and convenience. Whether you're looking for a place to call home or a high-end investment property, these penthouses are sure to impress.
So let's dive into the top five luxury downtown penthouses in Toronto's downtown core to choose from.
1. Lakeview Luxury Downtown Penthouse with Swimming Pool and Gym
Penthouse rental Toronto Location: 215 Fort York Blvd
Are you on the lookout for a luxurious stay in downtown Toronto with an awe-inspiring view of the lake? Your search ends at the renowned 3-bedroom lakeview downtown penthouse located at 215 Fort York Blvd. This penthouse boasts a gym, swimming pool, sauna, rooftop hot tub, indoor hot tub, and free onsite parking, providing you with an unmatched experience.
This fully furnished penthouse is perfect for those seeking comfortable and opulent accommodation, whether for a short-term visit or a long-term stay. It's an excellent option for all kinds of travelers who appreciate luxury and comfort.
Without a doubt, the balcony's magnificent lake view is one of the penthouse's main highlights. You can unwind on the large balcony and immerse yourself in the breathtaking views of the lake while sipping a cup of coffee or a glass of wine.
For questions regarding this Penthouse contact:
Additionally, the penthouse's location is prime, with many significant places for both business and tourist travelers situated close by, making it the perfect spot to stay when visiting downtown Toronto.
2. Cozy Penthouse in Core Business District Toronto
Location: 70 Temperance Street, Toronto, ON M5H 0B1, Canada
This beautiful apartment perfectly blends stunning architecture, refined service, and luxurious accommodations in the heart of Toronto's vibrant downtown. You will be living and breathing among 1000s of bars, restaurants, and many more. Access to the underground PATH network at your doorstep. A nightlife and entertainment hub is also nearby.
The balcony gives a unique aspect of Toronto life. Within a block, there are both 24-hour Tim Hortons and a 7-11. Next to the apartment entrance is a great place for socializing, and chilling, and good for breakfast.
So, if you are looking for a stunning cozy penthouse in downtown Toronto, this penthouse could be one of your best options.
Price: Average $1000 per week
3. Breathtaking Penthouse in Heart of Toronto
Penthouse Rental Toronto Location: Old Toronto, Toronto, ON, Canada – 0.9 mi to Toronto center
This penthouse certainly is one of the best penthouses in downtown Toronto. Spectacular penthouse of 2500 sqft with the best views of the skyline of CN Tower and downtown Toronto. Luxury furnished interior, huge living area with comfortable sectional couch, big dining area with an 8-seater dining table, and 3-seater island kitchen.
Luxury living in downtown Toronto. 2500 sqft of beautifully designed 49-floor penthouse unit in the heart of Toronto. This spacious penthouse with 2 bedrooms and 2 bathrooms is in the core of the town and is perfect for managers, families, or entertainment lovers who need a crib.
5min stroll to CN Tower, Rogers Centre, Metro Convention Centre, Ripley's Aquarium, and waterfront. Relax from every room and terrace to breathtaking sunsets-this penthouse is truly the pleasure of an entertainer!
Price: Average $752 per night
4. Reve – Elegant Penthouse Suite
Penthouse rental Toronto Location: King West, Toronto, ON, Canada
This is a penthouse in downtown Toronto in the luxury state of the art Tridel building downtown Toronto. It is a 4 minutes walk to the entertainment, fashion & financial district, metro convention, CN tower, and Rogers center. It is also close to transit, supermarket & restaurants.
This is a high-end executive suite, fully furnished 1 bedroom (500 sqft/46 sqm) in a luxury state of the art REVE building. excellent layout with modern décor. ceiling-to-floor glass in the living area & bedroom. The master suite is equipped with a very comfortable queen size bed. Separate living area to relax in and enjoy VIP package TV channels. The sofa can also be converted into a bed. One full bathroom and a balcony to enjoy a breathtaking view of the sunset and lake.
Price: Average $131 per night
5. Queens Quay Furnished Penthouse
Location: 650 Queens Quay West, Penthouse 17, Toronto M5V 3N2 ON
This beautifully furnished 1-bedroom penthouse is accessible in downtown Toronto (6-month rental ONLY). Live in this bright west-facing suite at 650 Queens Quay W penthouse level, just west of Bathurst, which overlooks the yacht club, island airport, and Lake Ontario.
This renovated penthouse in downtown Toronto has all-new kitchen cabinets and granite counters, renovated tile floors, a new 4-piece bathroom, new stainless appliances, an AEG stacking washer/dryer, and an easy-to-access parking spot.
All furniture and dishes are included. you supply your own bedding for a queen-size bed and your towels, etc. The living room couch serves also as a pull-out bed.
The building has 24-hour security, visitor parking, a great roof deck with BBQs, a decent gym, and a great waterfront location with easy TTC streetcar access to downtown and bike trails east and west along the lake.
Price: Average $2275 per month

6. Multi-level Penthouse Suite
Location: Old Toronto, Toronto, ON, Canada – 1.1 mi to Toronto center
This beautiful, one-bedroom, two-bathroom penthouse in downtown Toronto with marble accents, hardwood floors, a full kitchen, 10FT ceilings, and a patio facing the water is spectacular. You're never going to go! Guests will have access to facilities such as the pool/restaurant on the rooftop and a beautiful gym. Included high-speed internet. Parking is accessible at around $25.00/day.
Step into King Street West and appreciate Toronto's liveliness with this bright, spacious penthouse suite in the core of the Entertainment District. High ceilings, floor-to-ceiling windows, and natural light in the south!
Price: Average $210 per night

Nearby Attractions to Downtown Penthouse Rental Toronto
Toronto's downtown business district is known for its bustling atmosphere and towering skyscrapers. While it may seem like a place exclusively meant for work, the truth is that it's also home to some of the city's best attractions. From iconic landmarks to cultural hotspots, there's no shortage of things to explore here. In this article, we'll take a closer look at the top attractions near the business district in downtown Toronto.
So, let's take a look at what the bustling heart of Toronto has to offer!
▪️ CN Tower – A Towering Symbol of Toronto's Skyline
The CN Tower is one of Toronto's most iconic landmarks and a must-see attraction for anyone visiting the city. Standing tall at 553 meters, it offers breathtaking views of the city and Lake Ontario from its observation deck. The tower also boasts a revolving restaurant, a 3D cinema, and an outdoor SkyTerrace that lets you take in the city's beauty from different angles.
▪️ Royal Ontario Museum – A Museum of World Culture and Natural History
The Royal Ontario Museum is another popular attraction near the business district in downtown Toronto. It features an impressive collection of exhibits that showcase everything from ancient civilizations to contemporary art. You can explore the galleries dedicated to natural history, dinosaurs, and the human body, among others. The museum also hosts special events and exhibitions throughout the year, making it a great place to visit multiple times.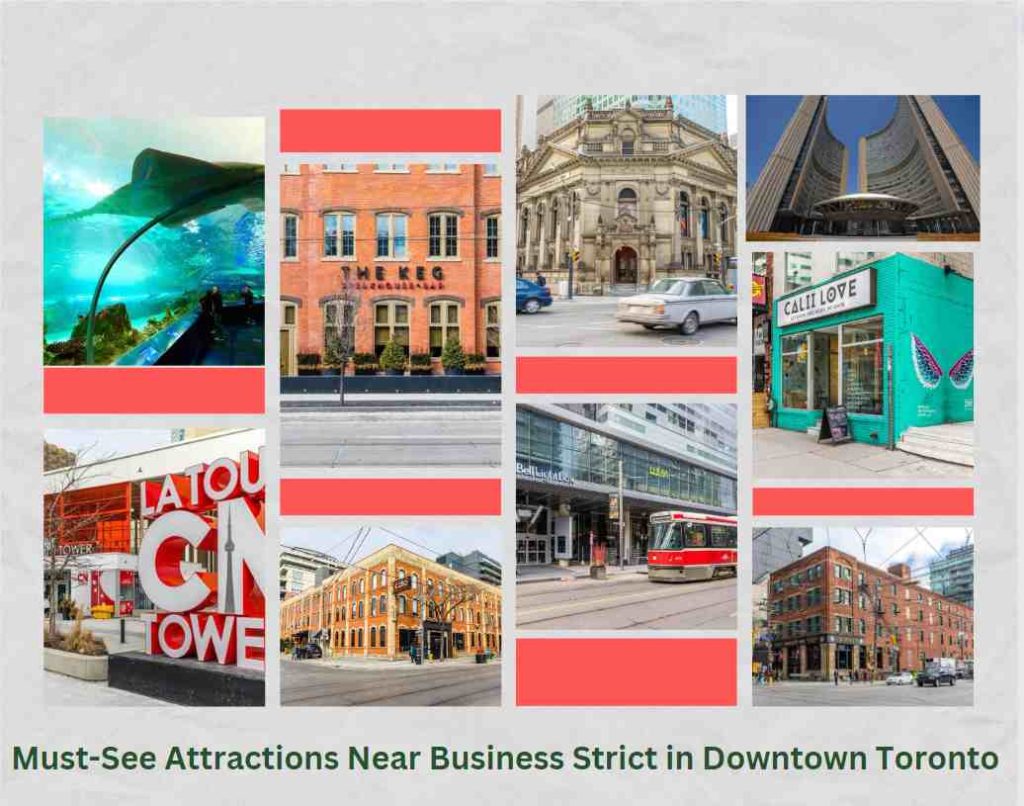 ▪️ Art Gallery of Ontario – A World-Class Art Museum
If you're an art lover, the Art Gallery of Ontario (AGO) is a must-visit attraction near the business district in downtown Toronto. It's home to over 100,000 works of art, including Canadian and international pieces from various periods. The museum's architecture is also a work of art in itself, with its unique design that includes glass and wood accents.
▪️ Entertainment District – A Hub of Fun and Excitement
The Entertainment District is a lively neighborhood near the business district in downtown Toronto. It's home to some of the city's most popular theaters, restaurants, bars, and clubs. If you're in the mood for some entertainment, head to the Princess of Wales Theatre, Roy Thomson Hall, or the TIFF Bell Lightbox for film screenings. You can also grab a bite to eat at one of the district's many dining options or dance the night away at a nightclub.
💥 Other Notable Attractions Near Business District in Downtown Toronto
▪️ St. Lawrence Market – A Historic Market with Local Flavors
St. Lawrence Market is a historic market that's been around since 1803. It's a great place to experience Toronto's food scene, with its diverse range of local vendors selling everything from fresh produce to artisanal cheeses. The market also hosts special events, such as food festivals and cooking classes.
▪️ Hockey Hall of Fame – A Shrine to Canada's National Sport
The Hockey Hall of Fame is a museum dedicated to Canada's national sport – ice hockey. It features exhibits showcasing the history of the game, the NHL, and its greatest players. You can also test your skills at the interactive exhibits and take a photo with the coveted Stanley Cup trophy.
FAQs on Penthouse Rental Toronto
Are you considering renting a downtown penthouse in Toronto but have questions before deciding? So, take a look at these questions to learn everything you need to know about renting a luxurious penthouse in the vibrant city of Toronto.
Q1. Are There Any Free Attractions Near the Business District in Downtown Toronto?
Yes, some free attractions near the business district in downtown Toronto include Nathan Phillips Square, the Toronto City Hall, and the Toronto Islands.
Q2. How Can I Get around to These Attractions Near the Business District in Downtown Toronto?
Downtown Toronto has an efficient public transportation system that includes buses, subways, and streetcars. You can also choose to walk or bike to many of the attractions, as they are located within a reasonable distance from each other.
Q3. Are These Attractions Family-Friendly?
Yes, most of these attractions are suitable for families with children. However, it's always a good idea to check beforehand if the attraction offers any child-specific activities or programs.
Exploring the attractions near the business district in downtown Toronto is an excellent way to take a break from work and immerse yourself in the city's rich culture and history. From iconic landmarks like the CN Tower to cultural hotspots like the Royal Ontario Museum and the Art Gallery of Ontario, there's something for everyone here.
So, the next time you find yourself in downtown Toronto, make sure to visit these must-see attractions near the business district in downtown Toronto to get a taste of what this vibrant city has to offer.
Conclusion
Looking for the perfect downtown penthouse in Toronto? Look no further than Tirbnb! With their extensive selection of luxurious and spacious penthouses, you can find the perfect accommodation that suits your taste and budget.
Don't miss out on the chance to experience the breathtaking views and vibrant atmosphere of downtown Toronto from the comfort of your own penthouse.
For questions regarding this Penthouse contact: