Home Away from Home Vacation Rentals for Every Budget in 2023
When visiting the vibrant city of Toronto, finding comfortable and affordable accommodation can be a challenge. Fortunately, vacation rentals offer a great option for those looking for a home away from home experience.
With its diverse culture, world-renowned cuisine, and exciting activities, Toronto has something to offer everyone. This article will explore the various short-term rental options available in Toronto. Moreover, we will assist you in finding the perfect vacation rental that suits your budget.
Whether you're traveling for business or leisure, vacation rentals can provide the perfect solution for your accommodation needs. So, without further ado, let's get started.
What Are Home Away from Home Vacation Rentals
Vacation rentals are privately owned accommodations that travelers can rent on a short-term basis.
These accommodations can be anything from luxury condo rentals in downtown Toronto to an apartment or a house. Vacation rentals are typically fully furnished, and they provide travelers with the comforts of home while on vacation.
Vacation rentals are a great alternative to hotels, especially for travelers who value privacy, space, and flexibility.
Benefits of Choosing a Home Away from Home Rental in Toronto?
Toronto has a lot to offer visitors, from the CN Tower to the bustling downtown core and the Toronto Islands.
Vacation rentals are an excellent choice if you are looking for a convenient, affordable, and comfortable place to stay. Here are some potential benefits of choosing a home away from home vacation rental in Toronto:
1. More Space and Comfort
One of the main benefits of a home away from home rental is the additional space and comfort it provides. Unlike a standard hotel room, vacation rentals offer more room to stretch out and relax.
This is particularly advantageous if you're traveling with family or a large group and need more space to spread out.
2. Increased Privacy
Another significant advantage is increased privacy. With a rental property, you have an entire space to yourself. Therefore, you have the freedom to relax and unwind in peace. This privacy can be especially beneficial if you're seeking a quiet retreat in the bustling city of Toronto.
3. Cost-Effective
Such rental properties come equipped with full kitchens, allowing you to cook your own meals. So you can save money on dining out. Additionally, rentals are often more cost-effective than traditional hotels, particularly for longer stays.
4. Unique Experience
Perhaps the most exciting benefit of this type of rental is the unique experience it provides. There's something for everyone in Toronto, from cozy apartments to luxurious villas. This personalized experience can make your stay in Toronto feel more authentic and memorable.
5. Local Expertise
Finally, vacation rentals can provide access to local expertise. They are managed by locals who know the area well and can recommend the finest places to visit. In this way, you can immerse yourself in the local culture and make the most of the city.
Where to Find Vacation Rentals in Toronto?
There are many ways to find home rentals in Toronto. Here are some of the most popular options:
Airbnb: home away from home Airbnb is one of the most popular vacation rental platforms. Airbnb offers thousands of listings in Toronto. You can find everything from budget-friendly studios to luxury condos on the platform.
Tirbnb: Tirbnb is a Toronto-based vacation rental platform that offers a wide range of short-term rental options. Its condos are fully furnished, and they offer the comforts of home. The website is an excellent choice for travelers looking for a comfortable and convenient place to stay.
Vrbo: Vrbo is another popular vacation rental platform, with a large selection of rentals in Toronto. The platform offers a wide range of rental options, from budget-friendly apartments to luxury villas.
Kijiji: Kijiji is a popular online classifieds site in Canada. On the website, you can find a wide range of vacation rentals in Toronto. You can search by location, price, and amenities to find the perfect rental for your needs.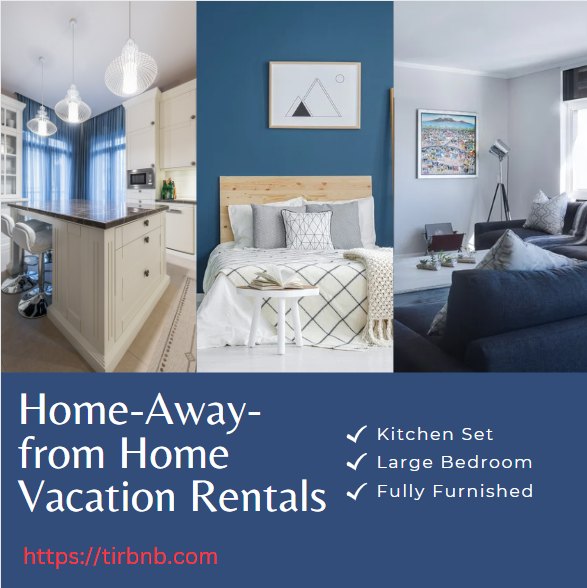 FAQs on Home Away from Home Vacation Rentals Toronto
If you're considering a vacation rental for your trip to Toronto, you likely have some questions about what to expect. In this FAQ section, we'll cover some of the most common questions. So you can make an informed decision regarding your vacation rental.
1. Where Is the Cheapest Rent Near Toronto?
The cheapest rent near Toronto can be found in cities and towns located outside of the city. Some popular affordable areas to consider include Brampton, Mississauga, Scarborough, Markham, and Etobicoke.
While renting outside of the city may be cheaper, remember to factor in transportation costs.
Related resource: Room for Rent in Toronto at $300
2. What Is the Best Home Vacation Rental Site?
The best home vacation rental site depends on your specific needs and preferences.
Some popular platforms include Airbnb, VRBO, Tirbnb, HomeAway, and Booking.com. It's important to compare fees, available properties, and customer service before making a decision.
3. What Is Vrbo Biggest Competitor?
Vrbo's biggest competitor is Airbnb. Both platforms offer similar services and are popular choices for vacation rentals and short-term stays.
Read More: Alternative to Airbnb in Toronto 2023: [+Best Tips and Tricks]
4. Is Vrbo Safer than Airbnb?
Both Vrbo and Airbnb have safety measures in place. However, the safety of a vacation rental depends on the property and the guests and hosts.
5. Which Is Less Expensive Airbnb or VRBO?
The cost of Airbnb and Vrbo can vary depending on the location, time of year, and the specific property. In some cases, Airbnb may be less expensive than Vrbo, while in other cases, the opposite may be true. It's important to compare prices and read reviews before making a decision.
6. What Are the Best Affordable Areas in Toronto?
Some of the best affordable areas in Toronto include Scarborough, North York, and Etobicoke. These areas offer a range of rental options. Furthermore, they are located close to public transportation and amenities.
7. Which Area in Toronto Is the Cheapest?
The cheapest area in Toronto is generally considered to be Scarborough. This area offers a range of vacation rental options, including apartments and houses. Also, it is located close to public transportation and amenities.

8. Where Is the Best and most Affordable Place to Live in Toronto?
The best and most affordable place to live in Toronto depends on individual preferences and needs.
Some popular affordable areas include Scarborough, North York, and Etobicoke. It's important to consider factors such as transportation, amenities, and overall quality of life before making a decision.
9. What Is a Cheaper Alternative to Airbnb?
Some cheaper alternatives to Airbnb include Vrbo, Tirbnb, and HomeAway. It's important to compare fees and available properties before making a decision. Additionally, consider reaching out to hosts directly to negotiate a lower price. You can also ask them about any available discounts or promotions.
Conclusion: Home Away From Home Rental Toronto
Generally speaking, whether you're traveling for business or pleasure, finding a comfortable and welcoming place to stay is essential. Vacation rentals that give you the feeling of home can make all the difference in your trip. They can provide you with a sense of familiarity and comfort that can help you relax and recharge.
Are you looking for a Dreamy Home Away From Home Rental in Toronto?