Alternative to Airbnb in Toronto 2023: [+Best Tips and Tricks]
If you are looking for a great alternative to Airbnb to find ideal Toronto vacation rentals for any budget and taste, this article is for you.
When planning a trip to Toronto, finding the perfect place to stay can be a daunting task. While Airbnb is a popular choice for many, there are plenty of other options available for short-term rentals in downtown Toronto. In this article, we'll explore some of the best Airbnb alternatives in Toronto. Also, we will provide you with some helpful tips and tricks for finding the perfect place to stay. So, stay tuned.
Why Choose an Alternative to Airbnb in Toronto?
There are several reasons why you might choose an Airbnb alternative in Toronto. Here are a few:
More options – While Airbnb has plenty of listings in Toronto, there are other short-term rental options available that may better suit your needs.
Local expertise – Some Airbnb alternatives in Toronto operate by local companies. These companies have a deep knowledge of the city and can provide insider recommendations.
Unique experiences – Some short-term rental options in Toronto offer unique experiences, such as staying in a historic building or luxury condo rentals downtown.
How to Find Perfect Airbnb Alternatives in Toronto
Start with a budget: Before you begin your search, determine how much you're willing to spend on accommodation. This will help you narrow down your options and avoid overspending.
Consider your needs: Are you traveling with a large group? Do you need a pet-friendly rental? Consider your specific needs and look for rentals that meet those requirements.
Check reviews: Just like with Airbnb, it's important to check reviews before booking a short-term rental in Toronto. Look for rentals with plenty of positive reviews and read through them carefully.
Look for local expertise: Some short-term rental companies in Toronto are run by locals who can provide insider recommendations on the best places to eat, drink, and explore.
Book early: Toronto is a popular tourist destination, especially during the summer months. To ensure you get the best selection of short-term rentals, book early.
Best Alternative to Airbnb in Toronto
Tirbnb.com – Tirbnb offers a wide selection of fully furnished condos for rent in downtown Toronto. Their vacation rentals in Toronto are located in some of the city's most desirable neighborhoods, like the Entertainment District, Yorkville, and the Financial District. Tirbnb's condos are fully equipped with modern amenities and provide a home-away-from-home experience for travelers.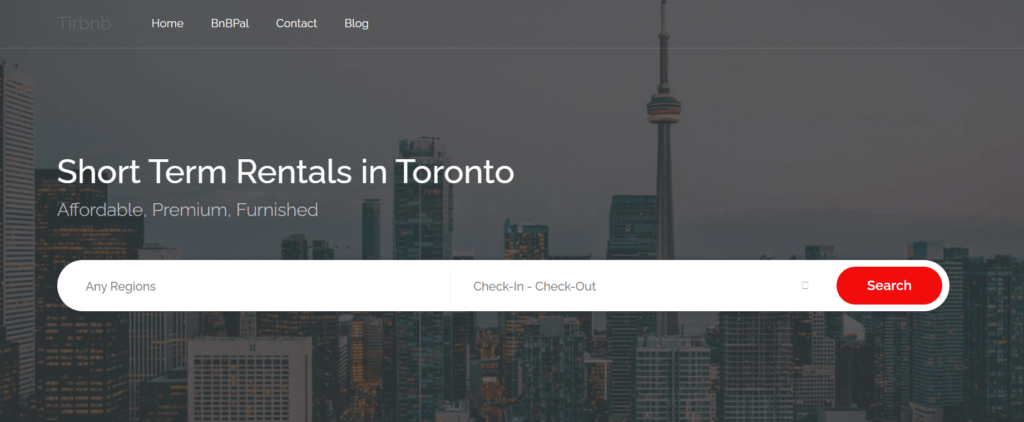 Advantages of Tirbnb Condos
Prime location: Tirbnb condos are located in some of the most desirable neighborhoods in Toronto. Therefore, they offer easy access to top attractions, restaurants, and shops.
Fully furnished: Tirbnb condos are fully furnished and equipped with modern amenities. So they are a great choice for travelers looking for a home-away-from-home experience.
Local expertise: Tirbnb is a local company with a deep knowledge of Toronto. Therefore, the company provides insider recommendations to help travelers make the most of their trips.
Competitive pricing: Tirbnb's pricing is competitive with other short-term rental options in Toronto. Hence, Tirbnb can be an affordable alternative to Airbnb for budget-conscious travelers.
Pet-friendly options: Tirbnb offers several pet-friendly rental options. So it is a great choice for travelers who want to bring their furry friends along.
Premiere Suites Toronto – Premiere Suites Toronto offers a variety of short-term rental options in downtown Toronto, including apartments and condos. Their properties are fully furnished and equipped with modern amenities. Hence, it is ideal for travelers who want a home-away-from-home experience.
Canada Suites – Canada Suites offers luxury furnished apartments for rent in downtown Toronto. Their properties are located in some of the city's most desirable neighborhoods, like the Entertainment District or the Financial District. Additionally, Canada Suites' apartments are fully equipped with modern amenities and provide a luxurious experience for travelers.
FAQs on Airbnb Alternatives
Now, let's answer some of your frequently asked questions. So, take a look at these questions to find the answers you may need.
Q1. How to Identify Rare Finds on Airbnb?
To find unique and rare finds on Airbnb, you can use the platform's filters to narrow your search results. Look for options such as "unique stays," "off-the-grid," "boutique hotels," and "rustic accommodations" to find properties that are not your typical hotel rooms or apartments.
Q2. Who is Airbnb's biggest competitor?
Airbnb's biggest competitors in the short-term rental market are companies like Vrbo (formerly HomeAway), Booking.com, and TripAdvisor.
However, the list does not end here. For example, Tirbnb is the other alternative for Airbnb that guarantees to provide you with a more unique and convenient stay in Toronto.
Q3. How do I choose between two Airbnbs Alternatives?
When choosing between two Airbnb alternatives, consider factors such as location, price, amenities, and previous guest reviews. Also, You may want to consider the responsiveness of the host and the level of communication during your stay.
Q4. Do Airbnb Prices Go up the More You Search?
No, Airbnb prices do not increase based on the number of searches you conduct. However, prices can fluctuate based on demand, seasonality, and other factors.
Q5. What Are the Successful Keys for Airbnb?
Successful keys for Airbnb hosts include
Providing clear and detailed property descriptions,
Being responsive and communicative with guests
Offering clean and comfortable accommodations,
Providing personal touches to enhance the guest experience.
If there is something else that we did not mention and you want to add to the list above, please let us know in the comments below.
Q6. Do Airbnb Hosts Have Hidden Cameras?
While it is not common, some Airbnb hosts have been found to have hidden cameras in their properties. Therefore, to ensure your privacy, always read the property description and reviews carefully. Moreover, it is best to consider contacting the host to ask directly if there are any cameras on the property.
Q7. What Is Airbnb's Weakness?
One of Airbnb's weaknesses is the potential for inconsistent quality among listings, as each property is owned and operated by different hosts with varying levels of experience and standards.
Q8. What is the Biggest Threat to Airbnb?
The biggest threat to Airbnb is regulation and legal challenges from governments and other authorities; particularly in cities with high demand for short-term rentals.
Q9. What Is Airbnb's Biggest Problem?
One of Airbnb's biggest problems is the issue of party houses and disruptive guests. Such issues can lead to safety concerns and negative impacts on the surrounding community.
Q10. What is the Best Type of Property for Airbnb?
The best type of property for Airbnb depends on a variety of factors, including location, amenities, and target audience. Properties that are in high-demand locations and offer unique experiences or amenities (such as a pool, hot tub, or outdoor space) tend to be popular among guests.
Q11. How Can I Make My Airbnb Property Unique?
To make your Airbnb property unique, consider offering personal touches. For example, you can add locally-sourced amenities, unique decor or art, and recommendations for local activities and experiences.
Q12. Can You Get Ripped off on Airbnb?
While it is possible to have a negative experience on Airbnb, the platform offers various protections and guarantees to ensure that guests are not ripped off. Furthermore, read reviews carefully, and report any issues or concerns to Airbnb's customer service team.
Q13. How Do I Get Airbnb to Lower My Price?
To negotiate a lower price on Airbnb, consider messaging the host directly. You can also ask them if they are willing to offer a discount. You can also look for listings that offer discounts for longer stays or book during off-peak seasons.
Q14. Is Airbnb Losing Popularity?
While Airbnb experienced a decline in bookings during the COVID-19 pandemic, the platform is expected to rebound in popularity. After the Covid-19 pandemic, travel restrictions are lifted and people resume travel plans.
Q15. Do Airbnb Rates Get Cheaper Closer to the Date?
Airbnb rates can fluctuate based on demand and seasonality, but they are not necessarily cheaper closer to the date. In some cases, rates may increase as demand for property grows.

Final Note on Alternative to Airbnb
In this post, we introduced you to Tirbnb which provides the most comfortable and affordable vacation rentals in Toronto. 
While not well known as AirBnB, the Tirbnb website offers some of the best vacation rentals in Toronto at lower prices and with more amenities.
They offer plenty of full-furnished condos and apartments to choose from at different places in Toronto across a range of budgets.
For more information, visit tirbnb.com. There's no doubt it's worth a look.